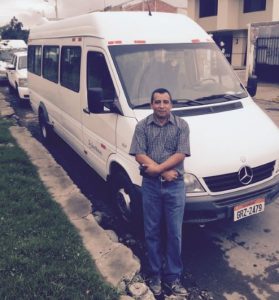 Perfectly English Speaking Taxi Driver, Patrick Fernandez (previously a taxi & limousine driver from New Jersey!), will pick up you, your family or travel group, RIGHT INSIDE the Arrivals Terminal of "Guayaquil International Airport" ('GYE' Airport Code), holding a white sign with your name clearly printed on it, and safely as well as comfortably drive you, your family or your travel group to anywhere in Cuenca in his Mercedes Mini-Bus professional taxi cab.  Please note that if you INSTEAD need a taxi pickup at Cuenca Airport ("CUE" Airport Code) or alternatively at Quito Airport ("UIO" Airport Code), that different rates apply in comparison to those shown below for Guayaquil Airport ('GYE' Airport Code), as the rate is lower for Cuenca and higher for Quito, and so please inquire accordingly via the below Inquiry Form based on the specific details of your travel plans.
The price for the 3 HOUR RIDE from Guayaquil to Cuenca is simply $140, NO MATTER HOW MANY ARE IN YOUR TRAVEL PARTY (i.e. 1, 2, 5 or 10 persons is still a $140 TOTAL PRICE!), plus there is much abundance of extra space for any large number of suitcases that you, your family or your travel group might have on arrival to Guayaquil.  Finally, if you have any cats or dogs with you, they are HAPPILY permitted to ride in the Mercedes Mini-Bus professional taxi cab too, and there is NO extra charge for them ("woof-woof" – "meow-meow")!
Simply complete the following "Airport Taxi-Pickup" Inquiry Form shown immediately below, and you will receive a reply back in a matter of minutes to hours (the 24 hour maximumturnaround time is usually closer to 24 minutes in reality!).